I have a very
sweet
announcement...
Starting June 14, attempting creative will be hosting a Cupcake Carnival!
What you can expect
- Cupcake shops
- Giveaways
- Recipes
- Free downloads
- Guest blogging
- ...And lots and lots of cupcakes!
So do you wanna be a part of the Cupcake Carnival??? Do ya??? I'd really love it if you did!
You can share your local cupcake shop, a favorite recipe, a fun decoration idea. Maybe you have a precious cupcake craft you'd like to share or have something you'd love to give away?
You can e-mail me at attemptingcreative [at] hotmail [dot] com, and we can schedule you for the Carnvial June 14-25.
Go ahead - grab a button and share the sweet news!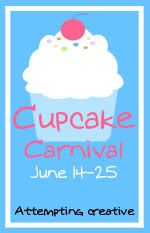 I'm very much looking forward to this yummy, sweet time at attempting creative.