There's something special about the things we choose to put in our homes. It's all there for a reason. I don't own a lot, after all. I just started out and have only recently begun keeping an
house
apartment. (I've always thought "house keeping" sounded a tad pre-1950 women's liberation movement. But I guess it's back around to being cool again by now, right?)

When dusting my room the other day (okay, I was really just throwing a Swiffer around flat surfaces), I ran across a few things I really wanted to share. Problem is I didn't make any of them. They're mostly things I have been given, or inherited, found, or kept. So then I wondered if you fellow bloggers might also have great things you'd love to share but just haven't thought to or found a reason to.

Maybe it's something your kids made you that you've kept tucked away. Or a beautiful piece of china you inherited from a relative. Maybe it's a book you wrote when you were in third grade or a special first edition of your favorite book you found in a rummage sale. It could even be your favorite ice cream or family recipe.

Whatever it is, I wanna know about it. I wanna hear all the fun stories, tales, and maybe even the fibs you need to tell.

There are no rules to how you set up your post. It can be one thing or a list of 10. (If it's over 50 things, I might need you to send me a 6-pack of Mountain Dew so I can finish.) :)

I'll have a linky party up on Monday for all of you to share your posts. Don't worry you've got all week.

And all next week, I'll be sharing some of my favorite things - and my mom's, and maybe even my grandmother's.

So go! Get to thinking, and taking pictures and writing.

Oh and while you're at it, take this button (below) and let others know about what's going on. I can't wait to see what you all share.

♥ Kimberly



P.S. I dare you not to start singing the song.
You know. That song.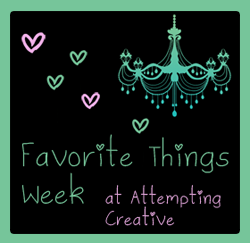 See something you like? Print it. Share it. Email it. But please, link back here when you do.