The first annual Cupcake Carnival starts Monday! I can't even begin to tell you how exciting it's going to be!
We have over 20 guest bloggers, 3 HUGE giveaways, and lots and lots of cupcakes, cupcake-decorated crafts, cupcake stores, and cupcake decorations. This is going to be
sweet
!
It's never too late to get involved! If you're interested in being a guest blogger or hosting a giveaway, email me at attemptingcreative [at] hotmail [dot] com. We'll also have a blog party going the entire two weeks so you can share your cupcakes or cupcake crafts with everyone.
Go ahead - grab a button! And then start dreaming up cupcake creations you can share!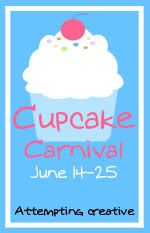 The precious cupcake clip art is from
LauraLoo
.